Invisalign
Invisalign Braces Somerset
Invisalign is one of the world's leading invisible brace system used to straighten crowded teeth or close unsightly gaps in your teeth with millions of happy customers worldwide.
What to expect ?
After an initial consultation, we would see you for an Intraoral scan and some specialized photography. We utilize cutting edge technology to give you an outcome simulation within minutes of having the scan- this would instantly give you a tentative idea of how your teeth could potentially be improved. The scan is then used to generate an accurate step by step plan called 'Clincheck' to correct your teeth. Clear BPA free Invisalign aligners are then fitted which are to be worn for 22-23 hours a day. Treatment can take between 3 and 18 months. We see you on regular intervals to keep a check and carefully monitor progress. On completion, retainers are then fitted to make sure your new smile is kept intact for as long as possible !
Why Invisalign ?
With discreet aligners used for tooth straightening, Invisalign braces can be worn at all times- whether you are at work or out and about.

You can eat and drink as you normally would so no more restrictions on foods compared to traditional train track braces which may set limitations on things that one can eat for fear of things getting caught in them !

Oral hygiene is so much more easier to maintain- just remove your aligners and good to go with flossing and electric tooth brushing !

The extremely intelligent software generates a Clincheck which enables you to see your smile even before the treatment starts.

Much more comfortable digital scans than having a mouthful of gooey impressions!
For further information- please contact us on 01935823040, message us on Facebook or email us on [email protected].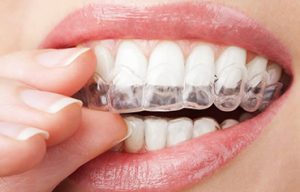 FAQ
Q:Can aligners straighten teeth?
Ans: Clear aligner treatments have become a viable alternative to fixed wire and bracket (train track braces) treatments for many misaligned teeth. Although newer compared to fixed alternatives they are heavily researched and can very much help in teeth straightening.
Q:Will my teeth go back after Invisalign?
Ans: After completion of any orthodontic treatment, using Invisalign aligners or otherwise has a tendency for teeth to relapse. In fact, it has been shown that teeth get crowded as part of normal dental ageing. It is for this reason that we ask to retain teeth to keep them straight for life. This usually means you would need to wear retainers for two to three times a week at night for life.
Q: How long does it take to get straight teeth with Invisalign?
Ans: Results with invisalign braces can be achieved as quickly as 3 months but can extend to under 2 years based on the complexity of the case, at-home compliance at wearing the aligners and sometimes the age of the patient. Despite the wait, most patients in cope really well with treatment given the results are slow but surely will get you to your destination smile!
Q: How much do Invisalign braces cost in Somerset?
Ans: Depending on your individual case, costs for invisalign braces in Somerset start from £2880. This is dependent on the complexity of the case and your dentist should be able to give you a more exacting cost. This would include all your aligners irrespective of the number of aligners needed or the time it takes to correct your malocclusion. A detailed treatment plan would be made available to you and any questions would be gladly answered by our experienced clinicians at Martock Dental Practice.